Caruso sisters achieve lifelong dream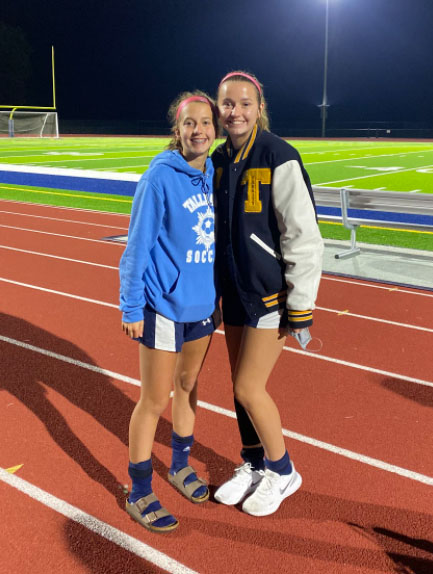 Picture this: It's overtime of the first round of the playoffs. The Tallmadge Girls Soccer team is tied with Northeast High School 0-0. Sophomore Julia Onchak receives the ball and starts dribbling up the field. She spots senior Halle Caruso across the field and passes it to her. Caruso receives the ball and passes it to her sister, freshman Abby Caruso, and she scores. Game over. Tallmadge wins 1-0.
It is an amazing story in itself, right? Now let's go back in time, to the beginning of the season, where the real story begins.
The Tallmadge Girls Soccer team is playing their first scrimmage of the year, against Norton. Senior Halle Caruso is gearing up for her final season as a Blue Devil. But not everything goes as planned. While sprinting towards the ball, Caruso collides with a Norton player, breaking her fibula in the process. 
"This really broke me down since it's my last season playing for Tallmadge. I was really worried that I wasn't going to be able to play for the rest of the season," Caruso said.
Caruso missed most of the regular season, watching the games from the sideline, cheering on her team. 
"It was definitely very hard to watch and not be able to play," Caruso said.
Even though she was unable to play, Caruso still found some light in the darkness. 
"During a game against St. Vincent St. Mary, I watched my sister score her first varsity goal of the season," Caruso said. "I was so proud of her that it made it worth it to watch them play."
As the season came to an end, Caruso was able to start playing again. She was able to play the team's second to last regular season game against Ravenna. While still a little hobbled, Caruso was able to finish the game out and help her team secure the win. 
"I loved being able to run again and play with my team. We also won the game, so that was also a big positive," Caruso said.
Fast forward to Oct. 19, the day of the first round of the post-season tournament. Tallmadge and Northeast are in the middle of a hard-fought game. Both teams take multiple on-goal shots, but none of them pass through for a goal. As the game comes to the end of regulation, and overtime begins, the fateful play occurs. 
Dribble. Pass. Shoot. Score. Game.
But this moment was not just a coincidence. The goal has been a lifelong dream for the Caruso sisters. 
"We have been waiting to play together for forever. (Assisting each other on a goal) has been a huge goal of ours," Caruso said. "When I realized Abby scored, I actually broke down into tears."
This year was the Caruso sisters' last chance to achieve this dream, and it was almost eradicated by a season threatening injury to Halle. But as the stars align, so does the opportunity for a beautiful story to be written. A story of two sisters and their lifelong dream being reached. Scoring a game-winning goal right next to each other.