Retiring teacher reflects on career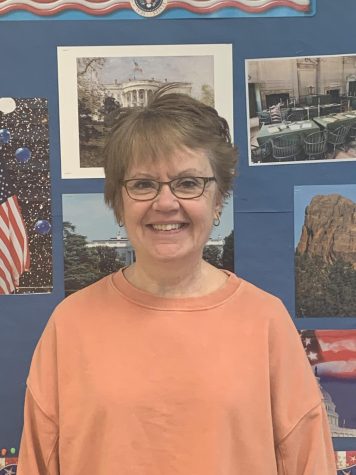 US Government teacher Sue Whitman is retiring at the end of the 2021-2022 school year. Whitman has been teaching at Tallmadge High School for 32 years, not including a consecutive 12-year break she had took after 2.5 years into her teaching career. Whitman graduated from the University of Akron, also doing her student teaching at THS. She teaches government for juniors. 
"I always wanted to be a teacher. I wanted to teach either History or English. My older brother was a teacher, and whenever he came home I helped him grade papers. I also had a Government teacher in high school who rocked my world, and I said 'I want to be her,'" Whitman said.
Whitman loves the relationships and bonds she can get from the kids. She loves getting the opportunity to bond with them, and she still stays in contact with some former students. She is humbled by her ability to make an everlasting impact on students.
"I have a binder full of notes from my past students. I go through them every year, and it's nice to think of them and the impact I've  made," Whitman said. Whitman has seen the children of former students go through her class.
Many students have gone through her class, and Whitman is a well known and well adored teacher. 
"Mrs. Whitman is such a great teacher. I had her when the primary elections were going on in 2019 and she had all the candidates on the wall and it was always fun to come into the classroom and see a blue X over a new person's face every time someone dropped out of the race," Shannon Koborie, a 2021 graduate, said.
A lot has changed since Whitman's first year of teaching and now. She started teaching in the 1978-1979 school year, and it's "way different" now in her last year of teaching in comparison to her first year.
"It's harder to build relationships with kids because there's so much pressure with all the state tests, pressure to get all this information into them. And kids don't talk much anymore," Whitman said. "Technology has changed. Kids don't really talk to each other because they're distracted by their phones."
Whitman will be greatly missed by her students, coworkers, and the community. She has made a lasting impact on THS.
Government teacher Jon Shomo said, "She's been a fantastic colleague. I consider her a great friend and I don't know too many people who are as strong of a person as she is. I hope she comes back to sing for me on my birthday."