Senior leads tennis team into post-season play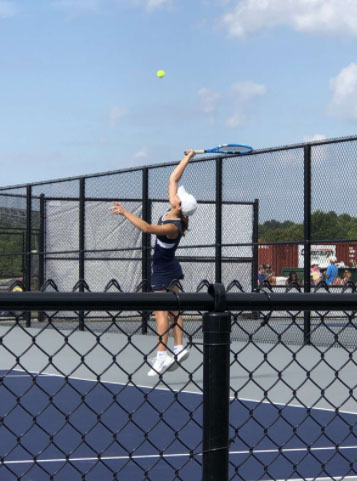 As a four-year letter winner, senior tennis player Anna Siesel has made an impact on the girls tennis team. Siesel has finished her regular season with a 11-7 winning record in first singles.
 "By far the biggest accomplishment I've been a part of over my four years is the team having a winning season this year. My first and second year the team only won one match the whole season and my third year we won a handful," Siesel said. "This year for both varsity and JV to have a winning record is huge."
Siesel has many strengths on the court and has been working hard to improve in many aspects in the game as she could. During practice and games, she gives it her all and cheers on all of her teammates.
"I think my biggest strengths are my serves and my ability to cover the court," Siesel said.
Coach Steven Strasser, who has been the girls tennis coach for three years, has worked with Siesel for three out of the four years she has been playing.
"The biggest impact she has had [on the team] is that she has shown other players what you can do if you put in the time and work to improve. She has also set a great example for everyone regarding being gracious in victory and defeat," Strasser said. "She is fair and kind to everyone she plays. She is a really good example of what student-athletes should be."
After Siesel finishes high school she plans to further her studies and go to college with an undecided major. She will not be playing tennis in college, but she wishes to continue playing on her own or in a league.
Siesel said, "I keep telling my team that we have to all retire in the same area so we can continue to play tennis. It is something I know for sure I will continue [to play] because I love the sport." 
The tennis team traveled to the sectional tournament in Strongsville Oct. 6, for their post-season tournament. Siesel will be playing first doubles with junior Emily Rotunda for the third year in a row. Their first match will be against the winner of the matchup of Padua and Fairview.